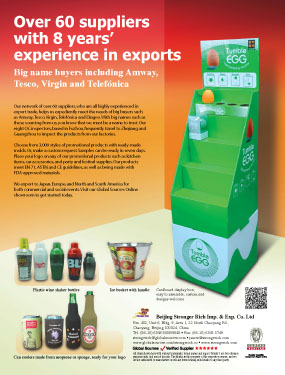 Share:




E-mail

Print

Bookmark
Beijing Stronger Rich Imp.& Exp. Co. Ltd

Follow me

Over 60 suppliers with 8 years' experience in exports

6 Star China (mainland)

Credit Check - Supplier Credit Profile

provides impartial credit and vital business metrics for select suppliers on Global Sources Online. Using the Credit Check reports, buyers can easily compare key indicators and more efficiently manage risk. Suppliers with a Credit Check logo have agreed to allow this information to be reported to help buyers streamline the selection and due-diligence processes.

The supplier information below has been obtained from relevant government agencies in the supplier's country and is subjected to change without prior notice. Credit Check and verification procedures were conducted by Sinotrust, a third-party credit agency.
Read Disclaimer


Registered Address:
75 Xinhua Str.
Tongzhou Dist. Beijing
China

Incorporation Date:
May 23, 2008
Legal Form:
Limited liability company
Company Status:
Live
Registration Agency:
Beijing Municipal Administration for Industry and Commerce, Tongzhou Branch
Registration Number:
110112011063420
Authorized Capital:
RMB 5,000,000
Paid-Up Capital:
RMB 5,000,000
Legal Representatives:
XIE Lihua
Import & Export Licences Obtained:
Yes
Business Scope:
Sale of arts and crafts, electronic products, hardware and electrical equipment, construction materials, knitgoods, textiles, computer software and hardware and auxiliary equipment, other mechanical equipment and daily-use articles; I/E of goods and technology; agency import and export; translation, enterprise image design, market investigation, cultural and art activities organizing (excluding chess game), exhibition and display undertaking and technology promotion
Business Permit Expiry:
May 22, 2028
Shareholders:
• XIE Lihua
• LU Zhongwang




Want a more detailed Credit Report on this supplier?



Authenticated and verified by:
Sinotrust


On May 26, 2009

Contact Details




Beijing Stronger Rich Imp.& Exp. Co. Ltd
No. 402, Unit 6, Bldg. 9, Area 1
North Chaoyang Rd., Chaoyang
Beijing
Beijing
China 100024
Tel: (86 10) 6548 8008 (86 10) 6548 9848
Fax: (86 10) 6543 5749
E-mail:


Homepage Address
http://www.globalsources.com/strongerich.co
Other Homepage Address
www.strongerich.com


Chat with supplier using:

Key Contact:
Mr Lu, James
General Manager



Supplier and product information updated May 22, 2013.
Verified Business Registration Details
Registered Company: 北京协创利恒进出口有限公司
Business Registration Number: 110112011063420
Company Registration Address: 北京市通州区宋庄镇丁各庄村委会西1000米


* In some jurisdictions, company names and addresses are registered in Chinese only.