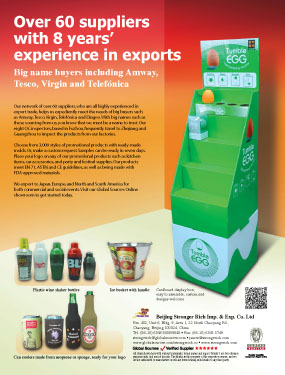 Share:




E-mail

Print

Bookmark
Beijing Stronger Rich Imp.& Exp. Co. Ltd

Follow me

Over 60 suppliers with 8 years' experience in exports

6 Star China (mainland)
Services and Support

| | | |
| --- | --- | --- |
| Leather luggage tag | Leather bracelets | Foldable shopping bag |
Sample Availability & Policy
We provide free samples from our available designs but ask for freight fees. We can also provide you with samples according to your requirements.
Guarantees/Warranties/Terms and Conditions
We assure all final products will be the same as your approved samples. We guarantee on-time delivery and offer you professional sales services.
Export/Import Processing Support
We can help you to find the most reasonable freight method, all the relevant information for customs clearance and much more. And, we always arrange shipment to the location you appoint.
After Sales Service
We insist on the best quality for all our clients, and we offer after-sales services for different products at all times.
Click on any of the following
links for more information:
More Information
Contact Details




Beijing Stronger Rich Imp.& Exp. Co. Ltd
No. 402, Unit 6, Bldg. 9, Area 1
North Chaoyang Rd., Chaoyang
Beijing
Beijing
China 100024
Tel: (86 10) 6548 8008 (86 10) 6548 9848
Fax: (86 10) 6543 5749
E-mail:


Homepage Address
http://www.globalsources.com/strongerich.co
Other Homepage Address
www.strongerich.com


Chat with supplier using:

Key Contact:
Mr Lu, James
General Manager



Supplier and product information updated May 22, 2013.
Verified Business Registration Details
Registered Company: 北京协创利恒进出口有限公司
Business Registration Number: 110112011063420
Company Registration Address: 北京市通州区宋庄镇丁各庄村委会西1000米


* In some jurisdictions, company names and addresses are registered in Chinese only.